DENT BLANCHE
Verbier
---
CHALET DENT BLANCHE IS HIDDEN AWAY IN A QUIET CORNER
AT THE CENTRE OF VERBIER VILLAGE – ONE OF VERBIER'S
MOST INCREDIBLE PRIVATE RESIDENCES.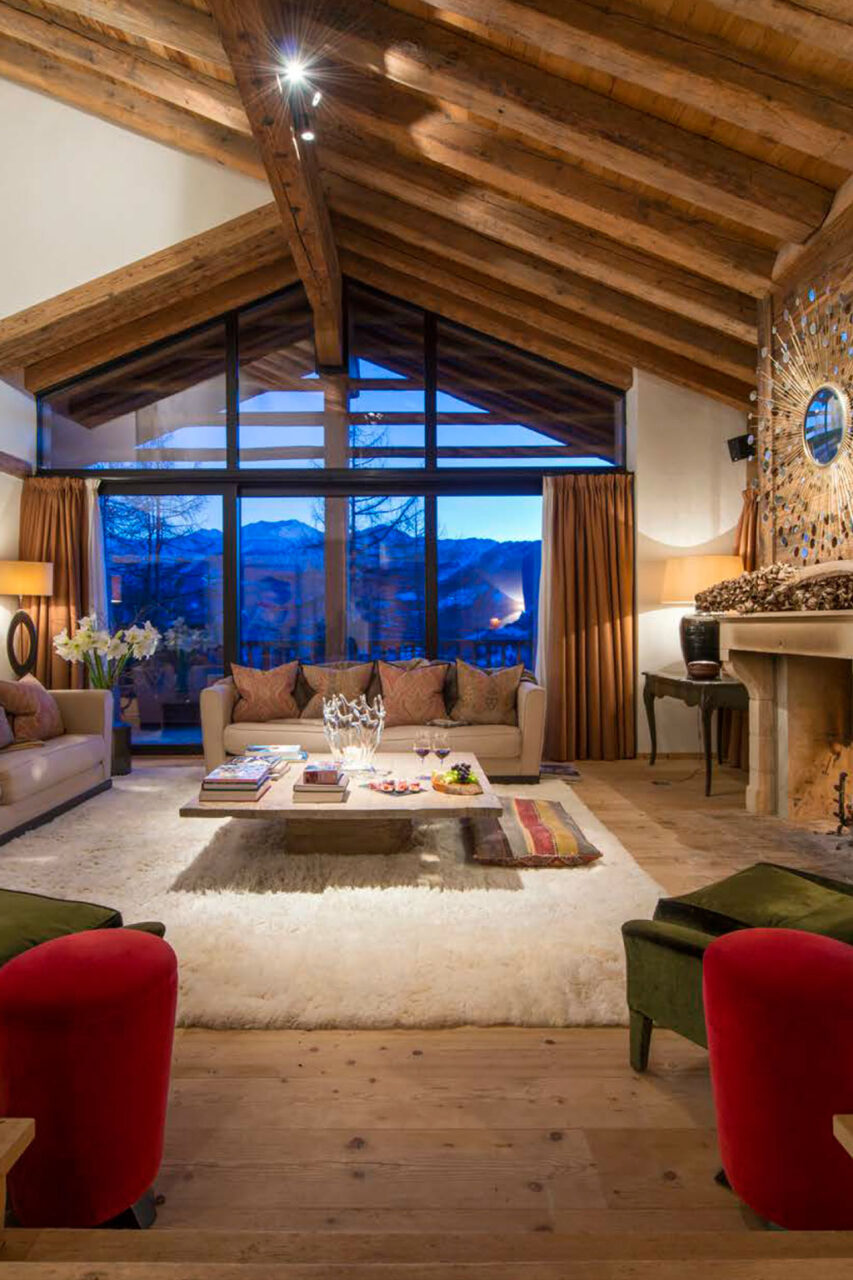 SYMPATHETIC ARCHITECTURE AND OPULENT INTERIOR DESIGN
Chalet Dent Blanche is architecturally sympathetic to the surrounding area having been designed using authentic traditional woods, with a lavish feeling to the interior design touches. The chalet can sleep eight adults and six children in total, all bedrooms are ensuite. The interior is a mix of contemporary furnishings juxtaposed to stunning artefacts and modern art, creating a chic alpine feel to the property – this chalet delivers luxury at the highest level. The chalet's private spa area and cinema room will allow you indulge in the ultimate alpine Verbier experience during your stay.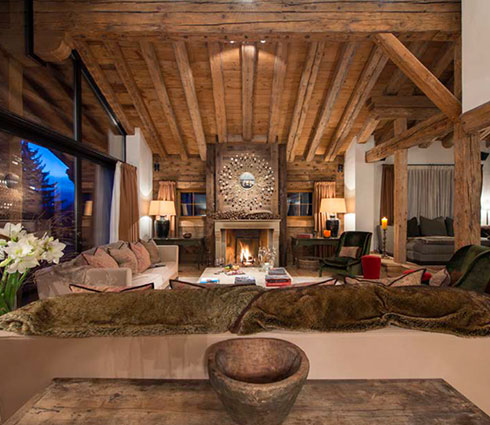 CHALET
A truly astounding chalet, this property spans 950 square metres, sleeping eight adults and six children. Four beautifully-designed floors provide dedicated areas for stimulation and relaxation, each with stunning panoramic views across the mountains.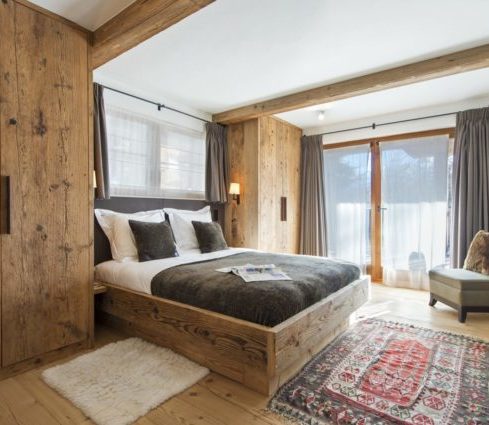 BEDROOMS
Chalet Dent Blanche has seven bedrooms all with ensuite facilities and a total of twelve individual beds. All the bedrooms open out onto balconies with stunning alpine views throughout. The bedrooms have been designed and furnished to create a relaxing ambience.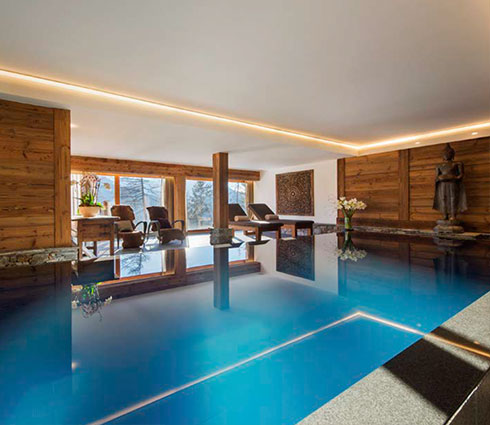 FITNESS
A personal gym of professional standard is located on the ground floor. Here you will find the highest quality of fitness equipment in a private setting with views looking out over the inspiring Val des Bagnes.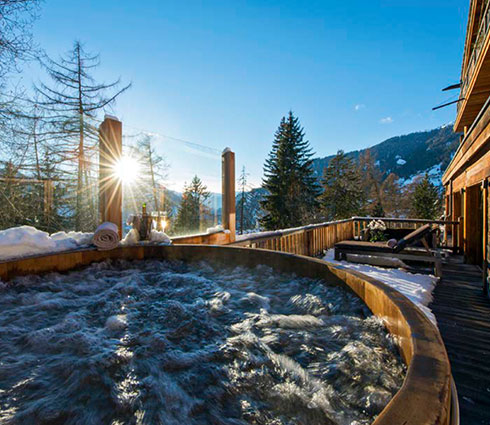 RELAXATION
Indulge yourself in Dent Blanche's private indoor spa with a large heated indoor pool, exotic hammam, and sublime sauna. Bathe in the gorgeous infinity pool and blissful outdoor jacuzzi for the ultimate relaxation experience.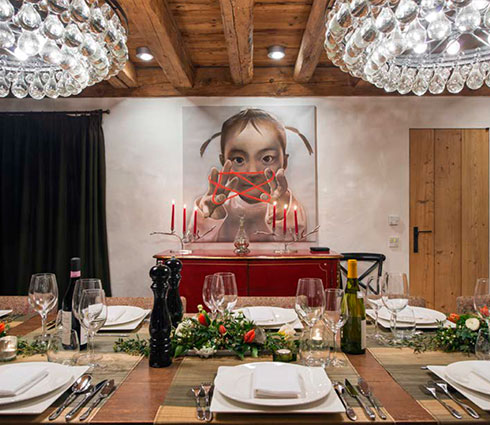 ENTERTAINMENT
Chalet Dent Blanche will cater to your every entertainment need, with its high-tech cinema room and additional TV zone. Sip an après ski drink from the private bar area or dine on a delicious seven-course meal in the lavish dining room. Crestron entertainment systems and all-round WiFi broadband will keep you entertained throughout your stay.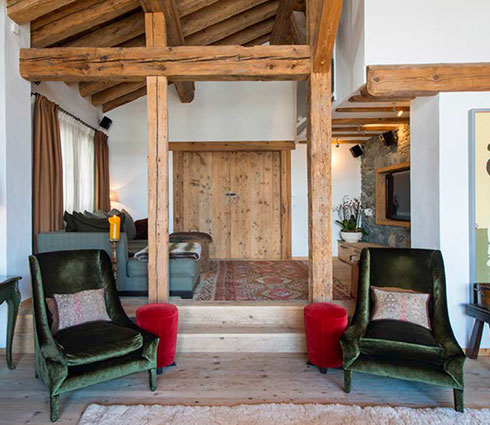 PARKING
Chalet Dent Blanche has two dedicated indoor car parking spaces for your vehicles, keeping them safe and secure during your holiday.
Master double bedroom (en-suite bathroom, sleeps 2)
Bunk bed room (en-suite bathroom, sleeps 2)
Office area
Bathroom
Two balconies
Open plan living and dining area
Separate kitchen
TV area
Office
Hallway
Guest restroom
Balcony
SLEEPING FLOOR (1ST FLOOR)
2 x double bedrooms (en-suite bathroom, each sleeps 2)
Twin bedroom (en-suite shower room, sleeps 2)
Double bunk room (en-suite shower room, sleeps 4)
Ski and boot room
Additional restroom
Garage area
Balcony
Spa with pool, sauna, hammam, outdoor jacuzzi
Shower area
Gym
Cinema room
Additional staff bedroom (en-suite shower room, sleeps 1)
Wine cellar
Private bar area
Separate restroom
Drop Us a Line
Don't be shy. Let us know if you have any questions.